Government gazzette
37 06/03/1992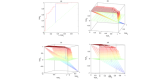 Webpage
http://biometry.agr.uth.gr
Department
Department of Agriculture Crop Production and Rural Environment
The Laboratory of Biometry of the University of Thessaly is based in the School of Agricultural Sciences at Volos - Greece. Our commitment is excellence in research, teaching, and consulting in Applied Statistics with a special focus on Statistics for the Biosciences. Our Lab offers top quality statistical consulting in virtually all areas of Applied Statistics, including Experimental Design, Industrial Applications, Medical Statistics, Marketing, and Agricultural Development.
Research Projects
Quality control implementation.
Laboratory Infrastructure
Multimedia equipped meeting room, Offices, Classroom, PC lab.
Licensed s/w Stata 11, Minitab 15, Matlab 2013a, JMP 8, SPSS 21, MS Office 2011.
Research Results / Products
In-house software for decision making.
Personnel
| Surname | Name | Profession-Position | Email | Phone Number | Web-link |
| --- | --- | --- | --- | --- | --- |
| Nakas | Christos | Director | cnakas@uth.gr | +30 24210 93183 | |
| Δημακόπουλος | Γιώργος | Εξωτερικός συνεργάτης (MSc.) | geodimako@yahoo.gr | +30 24210 93184 | |
| Χατζηπέτρου | Χρυσάννα | Υποψήφια Διδάκτορας | cchatzipetrou@agr.uth.gr | +30 24210 93184 | |
| Κρινάκης | Σταύρος | Επιστημονικός Συνεργάτης (ΜSc.) | sta.krin@gmail.com | +30 24210 93182 | |