Government gazzette
38 22/02/1995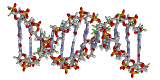 Webpage
http://genetics.agr.uth.gr
Department
Department of Agriculture Crop Production and Rural Environment
The aim of laboratory of Genetics & Plant Breeding is the education of under and postgraduate students for understanding the modern conventional and biotechnological approaches on Plant Breeding and Seed production of Field Crops. More specifically, focused on Breeding analysis design, molecular and organic breeding, chromosome engineering and use of mutations and GMO production. Also, offer the basic knowledge on plant propagation technology. Seed physiology, ecology, technology and seed storage, artificial seed and Seed improvement techniques (Priming, pelting) and.processing (cleaning, scarification, sizing, and coating). Research study on grafting in vegetable crops.
Research Activities
Research works on grafting on vegetable plants.
Seed and plant propagation technology.
Floral Biology development and structure of megasporangium - microsporangium, male and female gametophyte.
Principles of biochemistry and physiology to the processes controlling seed viability and quality.
Research and Evolution of local and commercial varieties and implementing for breeding programme.
Testing and evaluating for GMO seeds and plants.
Research Projects
Project named PENED No. 91 ED 392: Combined selection HS, S1 and TC families in maize population for reduced nitrogen requirements (finance GSRT).
Project No. P94001: Study of adaptability of sugar beet varieties in Thessaly and evaluation and its yield.
Research Committee UTH:(I)Improving Variety and seed production in the conditions of traditional agriculture in Thessaly (II) Methodology to determine the genetic purity of certified hybrids seed corn.
Project Named PENED 95 selection methodology for creating corn germplasm with tolerance to the limit temperatures (158150 ERE/383).
Program E + T Cooperation. China and Greece (2000–2002) Creation of molecular markers and evaluation of resolution to select genotypes of the genus Actinidia. (A: 6034/00, 30–10–2000, GSRT).
Research project "Plant molecular Genetics for an environmentally compatible agriculture" Greek node, Theme E2. EU funding
COST 828. "Seed science in the Field of Genetically Controlled Stress". National Representative and participate in the Working Group "Field crops of cross pollinated species" as coordinator of Greek research team.
INCO–DOC "Collection, Evaluation and Cryopreservation of Germplasm of the Genus Actinidia and Breeding Novel Kiwifruit". Coordinator of Greek Research Group (ERB 3514PL961475).
Within TEMPUS, participated in the S–JEP11446–96 as coordinator of the Research Group of the University of Thessaly.
Dimitra 95 (Decision 5/15–11–96 Board NAGREF) Creation of Soft Wheat Variety incorporating genes from related species. B.Utilization of genetic variability Greek varieties vegetable crops by creating sorting resistant to biotic and abiotic factors.
PENED 95 "Rating corn hybrids for the effective utilization of residual NO3–N (158,150 ERE/383).
Project number 4347 entitled: research study on improvement and efficiency programme for breeding and production as well as seed propagation materials (BREEDSEED) 09 ΣΥΝ–22–958.
ΚΕ 3185 – « Genetic evolution and identify of new variety of Kiwi through DNA analysis».
Participate in 2nd National publishing of F.A.O for genetic and resources in agricultural crops (2006).
ΚΕ 3935?01 Developing DNA profile map for cotton.
ΚΕ 3935 –02 Improvement and preservation of cotton genetic material through different field experiments.
Laboratory Infrastructure
Electrophoresis equipment.
Seed Germination Chambers.
Laminar flow for tissue culture.
Research Results / Products
Development of drought resistant varieties through biotechnological approaches and field experiments in connection with fibre and seed quality.
Development of controlled deterioration test for predicting seedling emergence and longevity in cotton, soybeans, corn, sunflower, alfalfa crops.
Development of growth media incorporating cotton ginning by-products for vegetable production.
Developing methods for improving and overcoming the problem of seedhardness in okra seeds.
Development of methods for improvement of quality of production in seedcotton.
Personnel
| Surname | Name | Profession-Position | Email | Phone Number |
| --- | --- | --- | --- | --- |
| Κhah | Ebrahim-Αvraam | Director | ekhah@uth.gr | +30 24210 93183 |
| Μαυρομάτης | Αθανάσιος | Διευθυντής | amavromat@uth.gr | +30 24210 93136 |
| Πανάγου | Ασήμω | Εκδηλώσεις | apanagou@uth.gr | +30 24210 93115 |