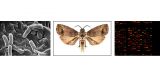 Webpage
http://www.bio.uth.gr/index.php?option=com_content&view=article&id=252%3Amoriakivaktirologia&catid=52%3Areslabs&Itemid=72&lang=el
Department
Department of Biochemistry and Biotechnology
Laboratory of applied and fundamental research in Molecular Microbiology, particularly on Pseudomonads. Biotechnological applications in Agriculture, Nutrition and Environment.
Research Activities
Antimicrobial Properties of Greek honey.
Microbial communities in biodeteriorated cultural objects (e.g. historical manuscripts, frescoes).
Biocontrol of pest insects.
Laboratory Infrastructure
Standard Molecular Biology Equipment (e.g. PCR, RT-PCR, Electrophoresis, centrifuges).
Personnel
| Surname | Name | Profession-Position | Email | Phone Number |
| --- | --- | --- | --- | --- |
| Mossialos | Dimitris | Director | mosial@bio.uth.gr | +30 2410 565270 |
| Nikolouli | Katerina | Researcher | ainikoloul@med.med.uth.gr | +30 2410 565295 |