E-mail
malizos@med.uth.gr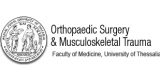 Webpage
https://www.facebook.com/Orthopedic-dptOrtho-uthorg-389627247886909/
Department
School of Medicine
Several research protocols are carried out in the Microsurgery Lab, in the fields of experimental microsurgery andtissue reconstruction with microsurgical techniques. In addition, the microsurgical techniques and their applicationsin the treatment of amputations and manglinginjuriesof the extremities(nerves and vessels reconstruction), in the musculoskeletal system (reconstructive microsurgery for the treatment of congenital anomalies and the reconstruction of defects) and in experimental level (experimental microsurgery) are being taught in the Microsurgery Lab. Finally, medical students, residents and fellows are being trained in the Microsurgery Lab to become familiarized with the operating microscope, the micro-instruments and micro-sutures and the respective suturing techniques.
Research Activities
Microsurgical reconstruction of nerve injuries.
Ischemic preconditioning of tissues for microsurgical reconstruction.
Research Projects
The role of ischemic preconditioning in the reconstruction after nerve suturing of peripheral nerves.
Laboratory Infrastructure
Personnel
| Surname | Name | Profession-Position | Email | Phone Number |
| --- | --- | --- | --- | --- |
| Malizos | K.N. | Director | malizos@med.uth.gr | +30 2413 501199 |
| Dailiana | Z.H. | Director | dailiana@med.uth.gr | +30 2413 502722 |
| Varitimidis | S.E. | Director | svaritimidis@ortho-uth.org | +30 2413 502723 |
| Antoniou | I. | Researcher | iwannis80@hotmail.com | +30 2413 502718 |