Government gazzette
38 22/02/1995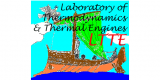 Webpage
http://www.mie.uth.gr/labs/ltte/grk/info/info.htm
Department
Department of Mechanical Engineering
The Lab's mission is to conduct Research and Development activities on Applied Thermodynamics and Internal Combustion Engines, with special emphasis to Automotive Exhaust After-treatment, Gas Turbines performance simulation and diagnostics, Co-generation systems study, HVAC Systems design and modelling and Building Energy Simulation. This process supports the education of good engineers, which are motivated and educated during their involvement in real industrial R&D projects are performed with close interaction between graduate students and researchers, working together to apply modeling and simulation assisted by smartly designed experiments and measurements, (Computer Aided Engineering), to support the design optimization of a variety of thermal systems. Direct industrial funding is the most usual form of funding in this Laboratory's activities.
Research Activities
SI and Diesel engine exhaust treatment technology.
Development of in – house software supporting design optimization of exhaust systems (CAE).
Measurements – design optimization in HVAC systems.
Building energy simulationοση/building energy performance assessment.
PV energy systems- performance monitoring/diagnostics.
Co-generation systems design optimization.
Research Projects
Development of CAE Tools supporting the Design of Automotive Exhaust Treatment Systems.
Development of Diesel Filter modeling software in MATLAB/SIMULINK environment.(DaimlerChrysler AG).
The Modeling of Automotive Catalytic Converters (Degussa-Huels – LTTE.
Modeling and engine bench evaluation of Diesel Filters (IBIDEN Co. Ltd.- LTTE).
Production of biofuels in Thessaly/ study of high speed Diesel engine emissions with B70 - B20.
Design optimization of a heat pump system based on H/L pressure modulation (LTTE).
Formation of energy auditors of buildings and building HVAC systems.
Development of a smoke emissions reduction system for High speed ferries.
Services of the Laboratory of Thermodynamics and Thermal Engines (LTTE)).
Re-design of regular and predictive maintenance in the buildings of the University of Thessaly.
Laboratory Infrastructure
Engine test cell with a 150 kW, Froude – Consine computer controlled eddy current dynamometer/ TEXCEL 100 direct digital control system (transient testing capabilities). The controller is linked to a PC equipped with Data Acquisition system (NI).
A full set of exhaust gas analyzers (CO, CO2, HC, NO). 
Various exhaust gas analyzers. 
Laboratory oven (1000oC max) for aging and regeneration of full-sized converters and diesel filters (0.2 x 0.2 x 0.4 m). 
Anemometers and air temperature sensors (TSI). 
Pressure transducers/various types.
Refrigeration system/vacuum pump.
Air and fuel flow meters.
Turbine type coolant flowmeter.
Aerosol Monitors PM10, PM2.5 (DustTrak II).
Flow maldistribution measurement test rig for catalytic converters and diesel filters.
Boiler efficiency measurement test rig.
Boiler Exhaust Gas Analyzer ?MRU Spectra 1600QL. 
SCXI-1112. Multiplexing and amplification of Thermocouples - 8 channels.
SCXI-1000 Multiplexing and amplification of Thermocouples and other signals.
On-line data acquisition & control: NI PCI-6259 - M Series, NI PCI/PXI-7833R – R Series , PCI-6024E I/O BOARD.
Three - and 1 - Phase Power Logger: Fluke 1735, DIY Wattson Classic.
Διάταξη μέτρησης πίεσης στο εσωτερικό κυλίνδρου Μ.Ε.Κ: High-Temperature Pressure Sensor Kistler 6052B1, High-Temperature Pressure Sensor Kistler AG5044A.
Electricity generatot 6kVA.
Thermal camera ThermaCAMTM S45 (FLIR SYSTEMS).
TSI's Laser Doppler Velocimetry (LDV) Model LA300 Laser.
Differential Thermometer.
Sound Level  Meter (Decibel Meter).
CO2 , CO, Indoor Air Quality measurement.
Nuclear Radiation meter (Geiger Counter).
A variety of catalytic converter and diesel filter systems for testing and assessment purposes.
Specially designed test rig for detailed flow distribution measurements in catalytic converters and filters.
Engine management system (ECU) interfacing software and hardware.
Research Results / Products
HEATRAN: Exhaust System Heat Transfer Modeling Software.
CATRAN: Automotive Catalytic Converters Modeling Software (3-way Catalytic Converter Modeling, NOx trap Modeling, Diesel Oxidation Cat Modeling).
CATWALL: Diesel Particulate Filter Regeneration Modeling (1D, Fuel Additive Assisted).
CATWALL-ANSYS Interfacing (3D Diesel Filter Modeling for detailed filter design).
KONSTAN: Exhaust emissions test data quality assurance software.
DARWIN: Kinetic Parameter Estimation Software (based on GAs).
Personnel
| Surname | Name | Profession-Position | Email | Phone Number |
| --- | --- | --- | --- | --- |
| Stamatelos | Anastassios | Director | stam@uth.gr | +30 24210 74067 |
| Stamatis | Αnastasios | Associate Professor | tastamat@uth.gr | +30 24210 74077 |
| Zogou | Olympia | Researcher | olyz@uth.gr | +30 24210 74013 |
| Tziourtzioumis | Dimitrios | Researcher | dimtziour@mie.uth.gr | +30 24210 74053 |
| Bacalis | Diamantis | Researcher | dbakalis@uth.gr | +30 24210 74051 |
| Gountas | Apostolos | Researcher | agountas@uth.gr | +30 24210 74051 |
| Roumpakias | Elias | Researcher | iroumpak@teemail.gr | +30 24210 74096 |
| Stratakis | George | Researcher | gstrat@uth.gr | +30 24210 74097 |