Government gazzette
1272 05/09/2003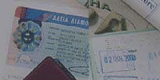 Webpage
http://www.ha.uth.gr/index.php?page=soca-lab
Department
Department of History, Archaeology and Social Anthropology
The Lab of SA covers educational and research needs in the fields of Social Anthropology, Sociology, Oral History and Folklore Studies. Its activities pursue the following aims: (a) Research: Fieldwork and cooperation with research programs on cutting-edge problems of contemporary society. Documentation of aspects of human experience in the past and in the present: creation and maintenance of an audiovisual life stories archive, a photographic archive, a video library with documentaries and films of anthropological, ethnological and historical interest, creation of videotaped material on topical issues, bibliographic documentation, creation of educational material. (b) Diffusion of results: Creation of documentaries and radio transmissions, museum exhibitions, production of research material of digitalized and printed research material, organization of workshops and conferences
Research Activities
War, Civil War, Dictatorship: oral witnesses.
Technoculture – Netanthropology.
Ethnographies of Religious Communities.
Education of Minorities and Migrant Communities.
Anthropology of the European Union.
Anthropology of Social Movements.
Research Projects
Gendered Aspects of Migration in Southeast Europe (2004–2007), <a href="http://gendermigration.ha.uth.gr/en/index.asp">[1]</a&gt;. Funded by the Pythagoras Program of the European Union "4.2.1e: Support of University Research Groups on gender issues." Co–ordinator: Riki Van Boeschoten.
The Queen's Town Agia Sofia in Agria (2009–) Funded for the first 3 months by the Research Committee of the University of Thessaly. Coordinator: R. Van Boeschoten. Up to now 150 life stories have been recorded.
Demuciv, Designing the Museum of the City of Volos, 2011–2015, Coordinator: G. Papakonstantinou. Funded by the Greek Ministry of Education, Lifelong Learnng and Religion, European Union, NRSF. The Lab for Social Anthropology is mainly responsible for the collection of life stories. <a href="http://lecad.arch.uth.gr/en/research">[4]</a&gt;.
Laboratory Infrastructure
Lab room, 9 X 5 m2. Eight work spaces, conference table for ten people.
Computers, software for the processing of audio and video material, printers, photocopy machine, projectors for seminars, digital and analog audio and video recorders, transcription software and pedals, microphones, headphones.
Library (print and digital).
Archives: Audiovisual Archive of life stories (app. 560 interviews), Lelouda Archive (on Queen's Towns), Photo Archive, Ethnographic Archive.
Research Results / Products
R.Van Boeschoten and I.Laliotou (eds), Gender and Migration from Albania and Bulgaria, Athens, Nefeli (forthcoming, in Greek).
Establishment of the Greek Oral History Association based at the Lab for SA, Volos (27 May 2012).
Penelope Papailias, Projecting Places: Personal Photographs, Migration and the Technology of (Re) location. Στο  Camera Graeca: Photographs, Narratives, Materialities, επιμ. Philip Carabott, Yannis Hamilakis και Eleni Papargyriou. Λονδίνο: Ashgate. (forthcoming)
E.Mastorodimou, O.Sevastidou & A.Siotou "Qualitative methods and language issues. 'That's how you you say it, mom!'". Proceedings of the conference "Second crossroad of languages and cultures, Greek-Albanian contact", Thessaloniki, 18-19 May 2012. (in Greek, forthcoming).
G. Androulakis, R.Van Boeschoten, E.Mastorodimou, O.Sevastidou, "Using qualitative methods for the analysis of adult immigrants' language learning needs: a research project in Greece focusing on school-parents communication". Proceedings of the conference "Language, Migration and Diaspora", 2-3  December, Dublin (forthcoming).
Personnel
| Surname | Name | Profession-Position | Email | Phone Number | Web-link |
| --- | --- | --- | --- | --- | --- |
| Van-Boeschoten | Riki | Director | riboush@uth.gr | +30 24210 74833 | |
| Mitsopoulou | Christina | Technicians | chmitsop@uth.gr | +30 24210 74797 | |
| Kalfountzos | Kostas | Technicians | konkalf@uth.gr | +30 24210 74869 | |
| Dallas | Themis | Technicians | tgd@ha.uth.gr | +30 24210 74862 | |
| Δέλτσου | Ελευθερία | Επίκουρος Καθηγητής | eldelt@uth.gr | +30 24210 74532 | |
| Παπαηλία | Πηνελόπη | Επίκουρος Καθηγητής | papailia@ha.uth.gr | | |
| Γιακουμάκη | Βασιλική | Λέκτορας | yiakoumaki@uth.gr | +30 24210 74532 | |
| Τραγάκη | Δάφνη | Ερευνητής | daphnetr@otenet.gr | | |
| Σεβαστίδου | Όλγα | Ερευνητής | olsevast@uth.gr | | |
| Μαλαγιώργη | Κερασία | Ερευνητής | kerasiamal@yahoo.gr | | |
| Καραστεργιου | Μαρία | Ερευνητής | karastergiou@hotmail.com | | |
| Σιδέρη | Ελένη | Ερευνητής | elsideri@hotmail.com | | |
| Λάζου | Βασιλική | Ερευνητής | vlazou12@hotmail.com | | |
| Σανδρης | Βασίλης | Ερευνητής | wsandris@yahoo.gr | | |
| Αυδίκος | Ευάγγελος | Καθηγητής | avdikos@ha.uth.gr | +30 24210 74858 | |