Government gazzette
200 27/08/1996 & 662 24/05/2000
E-mail
billinis@vet.uth.gr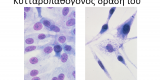 Webpage
http://www.vet.uth.gr/greek/index.html
Department
Faculty of Veterinary Science
Unit of Virology, Zoonoses and Emerging Diseases receives national and international research projects and trains young scientists to the following research fields: Study of infectious diseases of domestic and wild animals. Study of Evolutionary biology of pathogens. Study of Zoonoses. Detection and identification of emerging pathogens and the study of the pathogenesis. Epidemiological study of infectious diseases of animals. Molecular epidemiology of pathogens. Application of new diagnostic methods. Application of Geographical Information Systems-GIS.
Research Activities
Isolation and molecular characterization of pathogens.
Strains bank of animal pathogens.
Surveillance of important animal epidemics.
Development and application of new molecular and serological diagnostic tests.
Identification of the nucleotide sequence of important pathogens.
Identification of sources of significant animal pathogens.
Study of nosological profile in Greece.
Study of the mechanism of evolutionary virology.
Study of the epidemiological role of wild animals in epidemics.
Identification of high-risk areas for the spread of diseases using GIS.
Research Projects
"Integrated surveillance and control programme for West Nile virus and malaria in Greece (MALWEST)" funded by (NSRF) 2007–2013 (114000 Euros).
"Novel Technologies for Surveillance of Emerging and Re–emerging Infections of Wildlife". (Funded by EU. 2009–2013, Contract No: 222633, 700000 Euros).
«Interdisciplinary Investigation and Identification of Rotaviruses, Bartonella henselae and Leishmania sp from Children and Animal Hosts using Novel Technologies: Public Health Importance» (Funded by EU 2007–2013 Contract No: 377266 600000 Euros).
"ESNIP 3 – European surveillance network for influenza in pigs (ESNIP) 3" (Funded by EC, FP7. Contract No: 259949 25000 Euros).
"Thematic network BVDV control" Funded by EU, – Network coordinator, Paul Steinar Valle, Head of Department of Production Animal Clinical Sciences, Norwegian School of Veterinary Science.
"Molecular characterization and pathogenicity study of Greek PCV2 isolates" (Funded by the Ministry of Education).
"BVDV eradication program in Greek dairy herds" (Funded by the ANIMPEX SA).
"Prevalence of sheep infectious diseases in Thessaly region" (Funded by the Ministry of Agriculture).
Laboratory Infrastructure
Equipment required carrying out serological tests (ELISA, IFA, VNT).
Equipment required for conducting molecular tests (PCR and rt-PCR).
Required equipment for sampling and field studies of wild birds and mammals.
Research Results / Products
Significant Results regarding the role of wild birds in the epidemiology of West Nil virus in Greece.
Development of molecular and protein microarrays as well as Magnetic Beads based assays, for the multiplex diagnosis of important livestock and wildlife diseases (Brucella spp., Tuberculosis, Trrichinellosis, Flaviviruses, Paramyxoviruses etc.)
Personnel
| Surname | Name | Profession-Position | Email | Phone Number | Web-link |
| --- | --- | --- | --- | --- | --- |
| Billinis | Charalambos | Director | billinis@vet.uth.gr | +30 24410 66011 | |
| Γιαννακόπουλος | Αλέξιος | Ερευνητής | alexiosg@yahoo.gr | +30 24410 66030 | |
| Τουλούδη | Αντωνία | Υποψήφια Διδάκτορας | atoul@vet.uth.gr | +30 24410 66030 | |
| Βαλιάκος | Γεώργιος | Επίκουρος Καθηγητής | georgevaliakos@gmail.com | +30 24410 66088 | |
| Ιακωβάκης | Χρήστος | Υποψήφιος Διδάκτορας | iacovakis@yahoo.gr | +30 24410 66030 | |
| Σώκος | Χρήστος | Υποψήφιος Διδάκτορας | thiramatologos@hotmail.com | +30 24410 66030 | |
| Καντερέ | Μαρία | Υποψήφια Διδάκτορας | markantere@gmail.com | +30 24410 66030 | |
| Τσοκανά | Κωνσταντίνα | Υποψήφια Διδάκτορας | nt.tsokani@yahoo.gr | +30 24410 66030 | |
| Χατζόπουλος | Δημήτριος | Υποψήφιος Διδάκτορας | vetdchatzop@gmail.com | +30 24410 66030 | |
| Ρόδη-Μπουριέλ | Αγγελική | Διευθυντής | aburriel@vet.uth.gr | +30 24410 66088 | |
| Λευκαδίτης | Μενέλαος | Διευθυντής | mleuka@vet.uth.gr | +30 24410 66026 | |
| Πατσιαούρα | Δήμητρα | ΕΤΕΠ | dimpats@med.uth.gr | +30 24410 66014 | |
| Ευαγγελοπούλου | Γραμμάτω | Υποψήφια Διδάκτορας | matinavet@hotmail.com | +30 24410 66090 | |
| Μπήσιας | Γεώργιος | Υποψήφιος Διδάκτορας | gbisias@yahoo.gr | +30 24410 66090 | |