Government gazzette
19 2002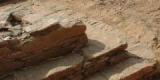 Webpage
http://www.ha.uth.gr/index.php?page=arch-lab
Department
Department of History, Archaeology and Social Anthropology
The Laboratory of Archaeology, University of Thessaly was founded in 2002 and is an integral part of the section of Archaeology of the Department of History, Archaeology and Social Anthropology. The purpose of its creation was both educational and for research. More specifically, the Laboratory aims in supporting the archaeological courses and research of the Department, assisting the training of students in modern archaeological methods and approaches, within a research milieu. For these purposes the Laboratory has acquired the appropriate technical equipment. Attached to the Laboratory of Archaeology is the Archaeological Collection, operating under the permit of the Greek Archaeological Service, as well as the archives and the archaeological libraries, which have been donated to the Laboratory (Donations of E. Mastrokosta, W.D.E. Coulson, J.N. Coldstream and P. Pandos, and books acquired by various other donations, especially by the Society for the Dissemination of Greek Letters).
Research Activities
Archaeological excavations of the Department of Archaeology of IAKA (land and submarine).
Conservation of the archaeological finds.
Organization of archaeological conferences.
Organization of archaeological and other kind of exhibitions.
Publications-Editions (Proceedings of Conferences, Catalogues of Exhibitions).
Research Projects
Aristeia (450.000 euros).
Pythagoras (80.000 euros).
Herakleitos (35.000 euro).
Excavations at Vriokastro in Kythnos.
Distribution of the acts of the 1st AETHSE.
Laboratory of Archaeology (Ph.E.K. 19/7–2–2002).
Enhancement of the ancient city of Kythnos.
3rd Archaeological Work of Thessaly and Central Greece (Volos 12–15 March 2009).
4th Archaeological Work of Thessaly and Central Greece, 2009–2011(15–18/3/2012).
Financial support of the excavations of IAKA.
Sanctuaries of the Cyclades.
Aristeia. Cod.350_ EIA–EA Greece_"The Social Archaeology of the Greek World during the Early Iron Age and the Early Archaic Period".
Irakleitos Sanctuaries and Cults of the Euboeans in the Greek World and the Euboean Colonies of Sicily and Great Greece. Geometric and Archaic Period.
Pythagoras Social Archaeology of the early historic times: the interdisciplinary example of Oropos.
Laboratory Infrastructure
Libraries –  filing and storage cabinets.
Showcases (donation of the National Archaeological Museum).
Workbenches – equipment for conservation.
Photo gallery (for slides).
2 electronic microscopes (1 stereoscopic) and a projection screen.
4 cameras and different lenses.
1 precision GPS and some normal GPS.
A table for photography of books or finds.
Equipment for maritime archaeology (2 air tanks, 2 jackets, 2 regulators etc).
Research Results / Products
Archaeological excavations on Kythnos (2001-…), Oropos (1996-…), Soros (2004-2008), Kephala Skiathou (2009-…), Zerelia (2005-…), Sikyon (2013-…), Velika (2010-…), Mykenai (2010-…), with the contribution of which the University of Thessaly has been worldwide known.
Printing of the Acts of the 1rst, 2nd and 3rd AETHSE (the Acts of the 4rth AETHSE are under publication) and the Acts of the Conference for the cult of Demeter.
Printing of the exhibition catalogue, Archaeological Quests (both in Greek and English).
Sites for the excavations of the Faculty of Archaeology.
Archaeological exhibitions at the University of Thessaly and elsewhere.
Personnel
| Surname | Name | Profession-Position | Email | Phone Number |
| --- | --- | --- | --- | --- |
| Mazarakis-Ainian | A. | Director | amaza@uth.gr | +30 24210 74845 |
| Moundrea-Agraphioti | A. | Associate Professor | eagraf@ha.uth.gr | +30 24210 74847 |
| Vasilaki | M. | Full Professor | mavasila@ha.uth.gr | +30 24210 74866 |
| Tournavitou | I. | Assistant Professor | iftourna@ha.uth.gr | +30 24210 74552 |
| Leventi | I. | Assistant Professor | ileventi@ha.uth.gr | +30 24210 74764 |
| Palaiothodoros | D. | Assistant Professor | palaio@ha.uth.gr | +30 24210 74842 |
| Lolos | I. | Assistant Professor | gialolos@ha.uth.gr | +30 24210 74840 |
| Varalis | Y. | Assistant Professor | iovaralis@ha.uth.gr | +30 24210 74842 |
| Κακλαμάνη | Όλγα | Υποψήφια Διδάκτορας | o_l_k_a@yahoo.gr | |
| Πράππα | Όλγα | Υποψήφια Μεταπτυχιακός | olgaprappa@yahoo.gr | |