Government gazzette
465 05/03/2004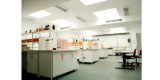 Department
Department of Agriculture Crop Production and Rural Environment
Applied Analytical chemistry, Οrganic chemistry and Physical chemistry in Agricultural Sciences. Pesticides Sciences and Ecotoxicology, Residues Analysis. Environmental Analytical Chemistry and pollution control. Behavior of organic micro-pollutants in the environment and foods.
Research Activities
Polution Chemistry - Environmental Analysis – Pesticides Pollution Control.
Chromatographoc and Sample Preparation Techniques for the Analysis of Organic Compounds (GC–FID, GC–ECD, GC–NPD, GC–MS, TLC, HPLC–UV, HPLC UV-DAD, IC, and LLE, Soxhlet Extraction, SPE, SPME, SDME). Development and Validation of Analytical Methods for Determination of Pesticides and Organics (PCBS, Phthalates, Solvents, Biogenic Compounds etc.) in Environmental and Food Samples.
Transportation of Pesticides in Environmental Compartments. Degradation, Adsorption - Desorption Studies. Pesticides Pollution Control and Biobeds.
Fate and Behavior of Pesticides in Food Processing (Wine Making, Fruit Drying, Juice Processing, Postharvest Fruit Conservation).
Research Projects
«Ozone application for improving postharvest handling of edible horticultural products – HORTOZONE» Scientific Coordinator Pr. M. Vasilakakis – Aristotelian University of Thessaloniki, Project funded by Ministry of National Education– in the frame of THALIS, 2012–2015.
«Evaluation of effectiveness of extracts of photochemical compounds as nematocides in integrated pest management programs» Scientific Coordinator Pr. N. Tsiropoulos– University of Thessaly, Project funded by Research Committee of University of Thessaly (Targeted research Action ), 2012–2013.
«Evaluation of biobeds for the decontamination of wastewaters of agricultural origin – BIOBEDS» as Researcher, Project funded by the Institute of Research Promotion of Cyprus (Scientific Coordinator As. Pr. D. Karpouzas– University of Thessaly), 2009–2011.
«Behavior of pesticides in the greenhouse» Scientific Coordinator Pr. C. Kittas – University of Thessaly (Multinational Greece–France, PLATON), 2006–2008.
«Study of the environmental behavior, the biological efficacy and the ecotoxicity of the organophosphorus nematocide fosthiazate» Scientific Coordinator Pr. N. Tsiropoulos– University of Thessaly, Project funded by Ministry of National Education–EPEAEK in the frame of Pythagoras II, 2005–2007.
Laboratory Infrastructure
Gas Chromatography System.
HPLC System (High Perfomance Liquid Chromatography).
Extraction and Micro-Extraction Systems.
Basic Laboratory Equipment.
Research Results / Products
42 papers in international scientific journals and more than 60 presentations in scientific Symposia and Conferences.
Supervision of PhD and M.Sc thesis.
Personnel
| Surname | Name | Profession-Position | Email | Phone Number |
| --- | --- | --- | --- | --- |
| Γκόλια | Ευαγγελία | Τεχνικός | egol@uth.gr | +30 24210 93194 |
| Παπαδή | - | Υποψήφια Διδάκτορας | apapadi@yahoo.gr | +30 24210 93194 |